Net Worth Statements: The New Year's Tradition of Fighter Pilots?
Author's note: This article first appeared in January 2021 and has been updated.
When I began my personal finance journey some years ago, my hairline wasn't playing defense yet and one of my frustrations was the ever-nagging question—"Am I on the right path with money?"
Our society teaches us to be hyper-consuming, credit score-keeping materialists.  You're reading this, so I probably don't need to convince you that conspicuous consumption and over-use of consumer debt are low-thrust, high-drag paths that rarely lead to financial freedom and wealth.  Yet, there's no denying that a credit score of 758 is better than 458, and who better to judge numbers than fighter pilots, right?  However, there's a better number to focus on—net worth.
Net worth is simple— subtract what you owe from what you own.  That's your net worth.  In financial geek-speak, it's assets minus liabilities, but chicken-beef, same-same. Net worth is the financial gauge we should keep our eye on.  Don't check it too, sort of like the oil gauge on a pond crossing, but with reasonable frequency.
Net worth is a great tool for assessing progress in your financial journey and checking your glidepath towards financial freedom/independence/retirement/etc.
How I Track My Net Worth
I love a good spreadsheet, so Excel is my go-to product.  I made my own, but there are gobs of freebees on the web. As you can from Figure 1., I list assets by type on the left, with liabilities at the bottom.  Some simple Excel formulas tally up the assets and liabilities, then I can compare this year's numbers to last year's numbers as well as the percentage change.
What I Track
Figure 1. shows a very simple product.  If it were too complex, I'd find a reason not to do it. I don't break out investment accounts by ticker symbols, etc.  I grab the numbers from my banks and brokerages, add them up for a given category, then plop them into the spreadsheet.  No need to crush the atom with complexity.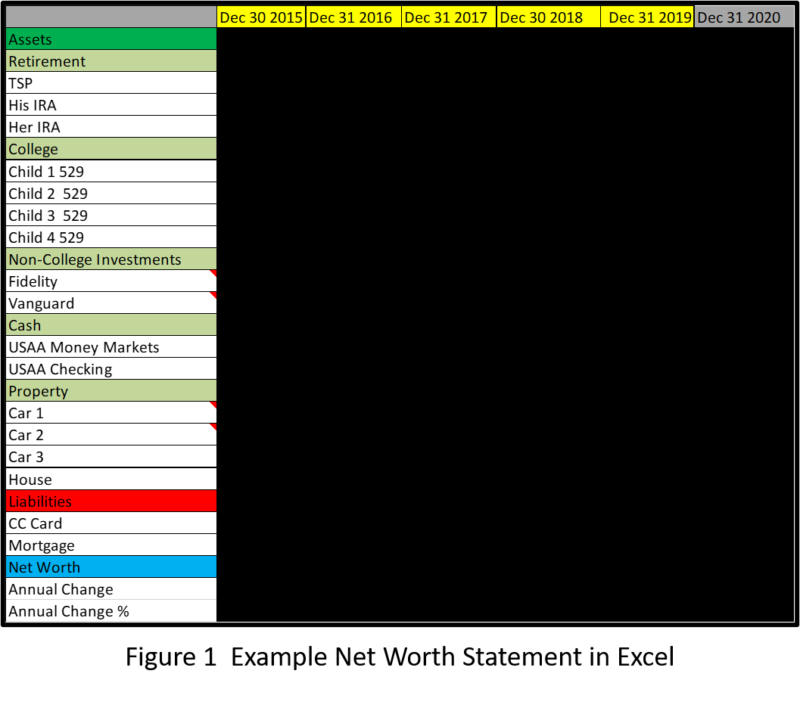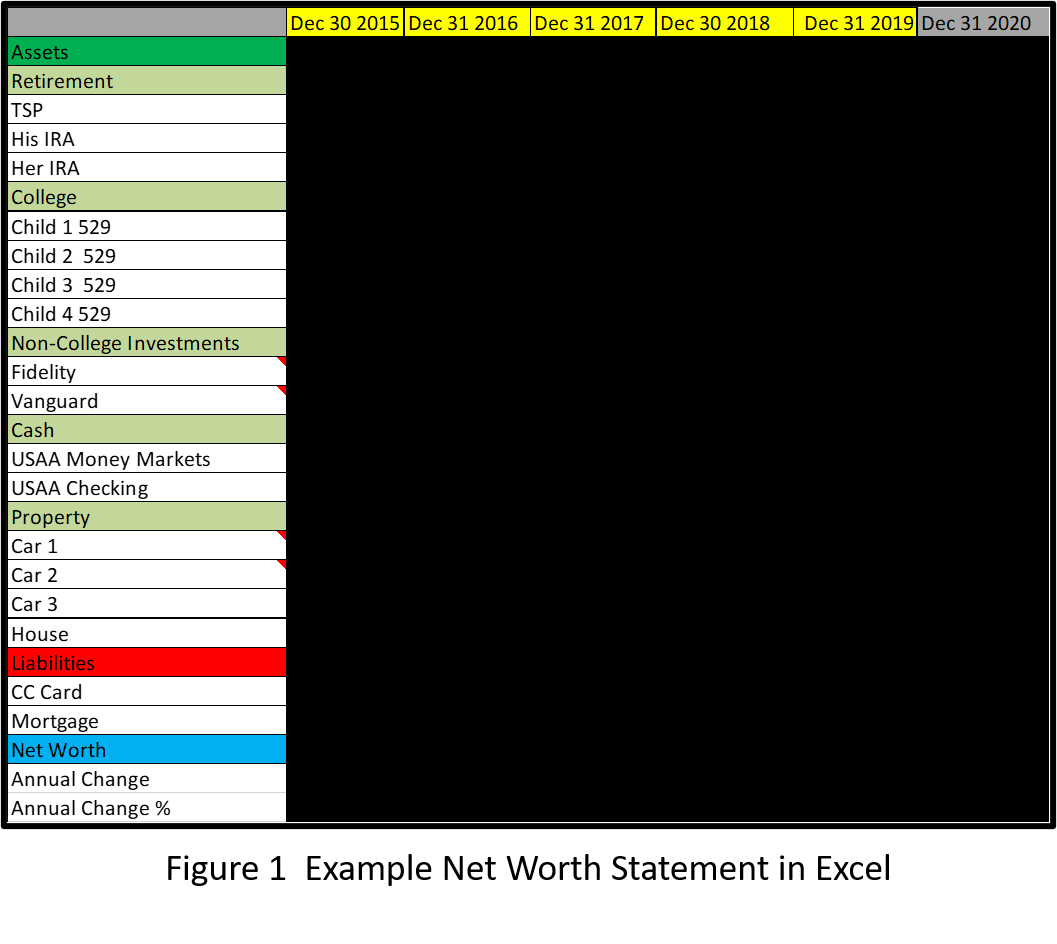 Fancier software might produce a product like Figure 2., and graphs will tell the story quickly.  The best solution is one that's accurate enough and you'll actually use.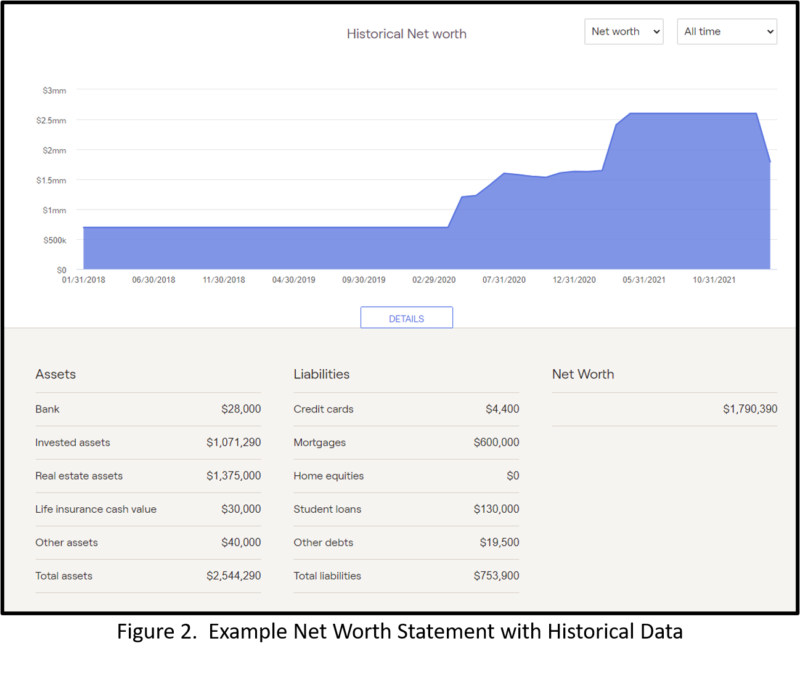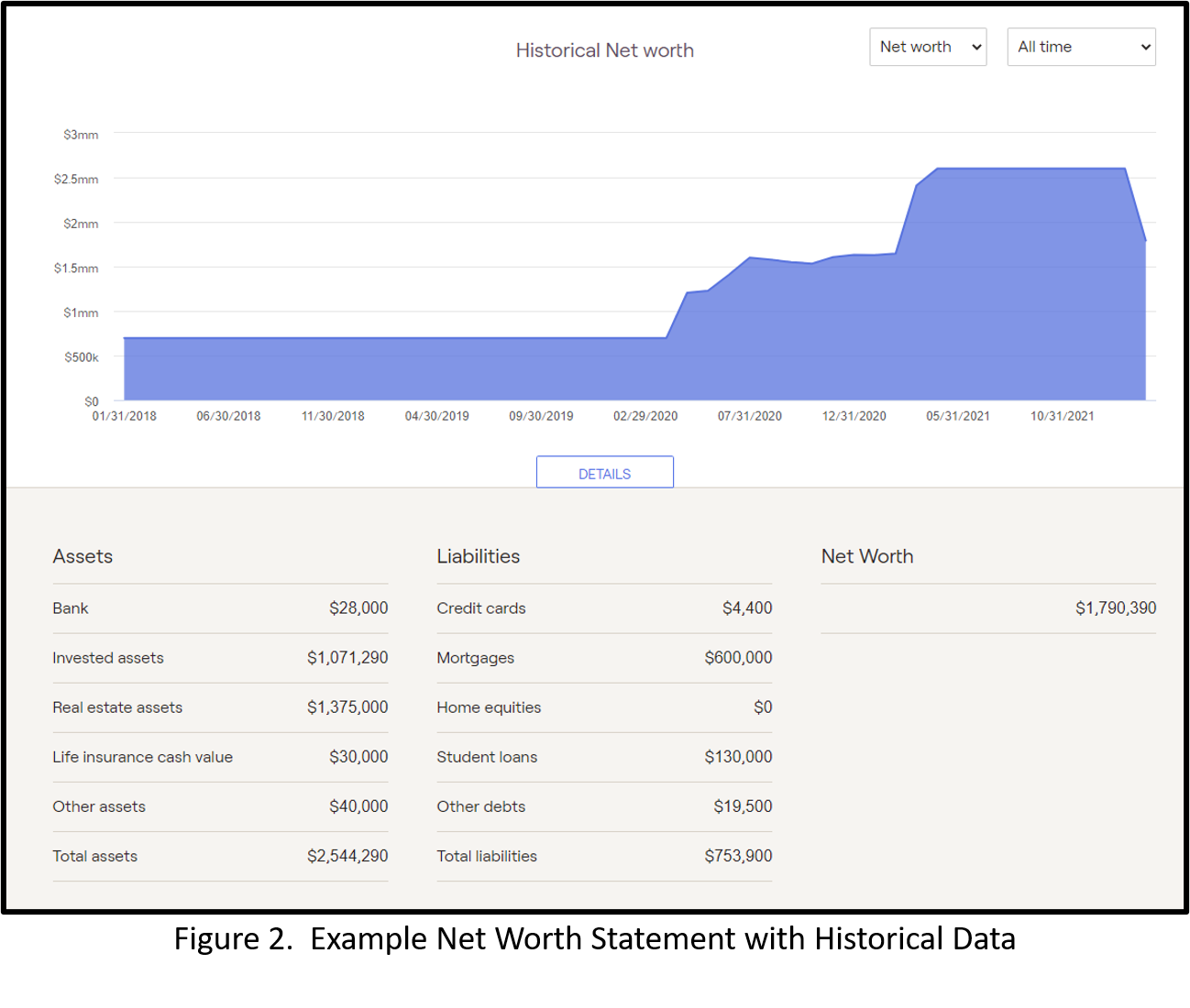 Should you include your kids' college savings?  One reason to do so is that psychologically, you'll feel better with those numbers included.  When you're just starting out and compounding hasn't given you much of a tailwind yet, you'll feel better seeing how each dollar gives you traction towards your goals.  Those college dollars will likely be part of what you spend, but if you don't spend them on college, there's a good chance the tax man is going to get pretty fat off of your tax bill. I can go either way, but at least it gives me an easy reference for year-over-year changes.
Why I Track Net Worth
As I've said before, I believe building wealth is about achieving goals, securing a dignified retirement, eliminating money worries, and maybe even leaving a legacy.  In my own financial plan, I know what net worth figure represents freedom from ever having to work for a pay check again.  If I track net worth periodically, I can see if I'm on glidepath and make corrections or, just smile as required.  I also find that it helps facilitate some annual financial discussions around the house.  I do not track things like credit score which our society has tried to turn into a vanity metric.
When I Track Net Worth
Updating a net worth statement once a year is sufficient for most households.  The best time of year is generally January since it's sort of "financial hygiene" month.  In December, mutual funds generally pay out capital gains, so your January statements will reflect those increases.  December is a great time to finalize contributions to any employer plans like a 401(k) and the last month for making charitable contributions to affect tax liability.
Taking a look at your finances in January is also a good warmup for tax season in the new year.  Finally, while you can still make IRA contributions until Tax Day in April, many people fund their IRAs in January in order to get an extra year of compounding.
Is a Net Worth Statement Right for You?
You know what I'm going to say here—of course.  In fact, if you have a negative net worth due to student loan or other debts, the net worth statement gives you reason to do your happy dance on the day you achieve a $0.00 net worth.  (This is a big deal for many professions.)
If you've already achieved financial independence from the need for a paycheck, maybe you can skip a net worth statement—but then again, you're a fighter pilot, so why put your head in the sand and run the risk that your number is heading in the wrong direction at the wrong rate and wrong time?
If you work with a financial planner that already provides this service then you should be set.  Finally, January isn't a magic month for Net Worth Statements.  Any month will do to get started, so why not give it a shot today?
Fight's On!
Winged Wealth Management and Financial Planning LLC (WWMFP) is a registered investment advisor offering advisory services in the State of Florida and in other jurisdictions where exempted. Registration does not imply a certain level of skill or training.
This communication is for informational purposes only and is not intended as tax, accounting or legal advice, as an offer or solicitation of an offer to buy or sell, or as an endorsement of any company, security, fund, or other securities or non-securities offering. This communication should not be relied upon as the sole factor in an investment making decision.
Past performance is no indication of future results. Investment in securities involves significant risk and has the potential for partial or complete loss of funds invested. It should not be assumed that any recommendations made will be profitable or equal the performance noted in this publication.
The information herein is provided "AS IS" and without warranties of any kind either express or implied. To the fullest extent permissible pursuant to applicable laws, Winged Wealth Management and Financial Planning (referred to as "WWMFP") disclaims all warranties, express or implied, including, but not limited to, implied warranties of merchantability, non-infringement, and suitability for a particular purpose.
All opinions and estimates constitute WWMFP's judgement as of the date of this communication and are subject to change without notice. WWMFP does not warrant that the information will be free from error. The information should not be relied upon for purposes of transacting securities or other investments. Your use of the information is at your sole risk. Under no circumstances shall WWMFP be liable for any direct, indirect, special or consequential damages that result from the use of, or the inability to use, the information provided herein, even if WWMFP or a WWMFP authorized representative has been advised of the possibility of such damages. Information contained herein should not be considered a solicitation to buy, an offer to sell, or a recommendation of any security in any jurisdiction where such offer, solicitation, or recommendation would be unlawful or unauthorized.