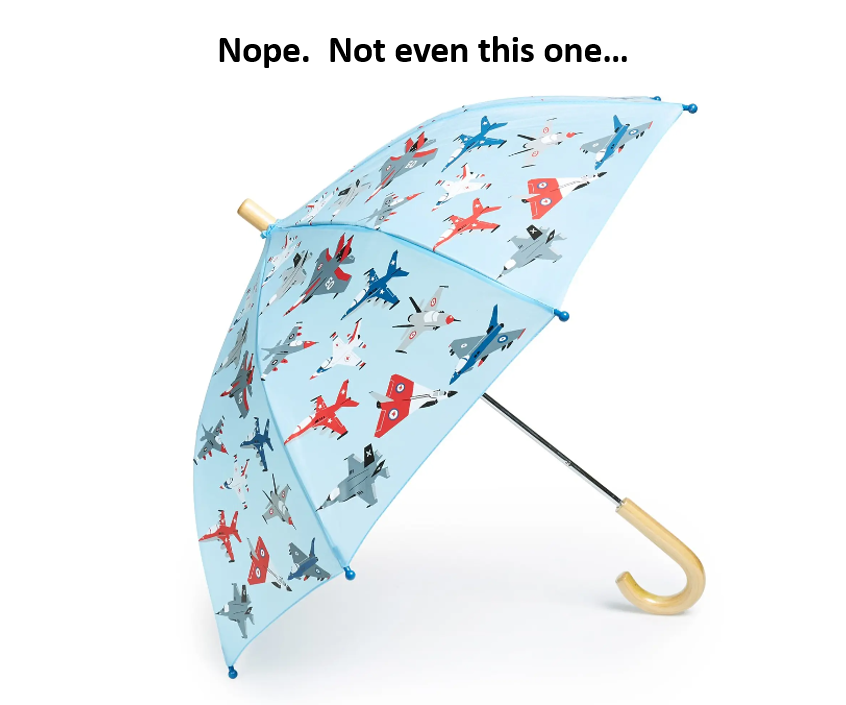 There are certain taboos in the tribe.  Running to escape the rain, clean lip in March, and using an umbrella are all on the no-no list.  So why do some fighter pilots ignore the rules?  Because of course, we're talking about umbrella insurance—not those silly half-domes on a stick!
Umbrella insurance is one of the little-known and probably under-utilized types of insurance.  It is extra liability coverage on top of what an automobile, home, or watercraft policy offers.  It's generally offered in multiples of $1 million, but it's usually pretty inexpensive at a couple hundred dollars per year.
Why should you consider umbrella insurance?
 Liability coverage on your home and car policy might go as high as $500,000.  You have a choice when you purchase your coverage and each state sets its own minimums.  A homeowner's policy will have one number for liability, but car policies have three.  If you look at your coverage statement, you might see something like 100/300/100 or 100K PP, 300K PA, 100K P.  The first number $100,000 PP means that if someone on your policy causes an accident, your insurance will pay for up to $100,000 per person to cover damages and injuries to those you've harmed.  The company will pay up to $300,000 per accident to all people harmed.  Finally, the company will pay $100,000 per accident to cover other people's things that you damaged in the accident.
A few hundred thousand dollars seems like a lot, and home/boat/auto policies aren't cheap.  However, it doesn't take much imagination to consider that today's medical costs coupled with even a modest jury award for pain and suffering to a group of people in a $100K+ car that live in our litigious society could outstrip a 100/300/100 liability policy faster than a Raptor can get to Mach 2.  If you are successfully sued for more than your coverage, your other assets can become fair game to your new -found creditors.
With a $1M umbrella policy in place, you now have an extra $1M of liability coverage that covers you in your car, home, or boat.  Last time you were at Red Flag, you probably saw about 5,831 billboards advertising ambulance-chasing lawyers that claimed 7-figure awards, but those enormous awards aren't the norm.  Unfortunately, we don't carry insurance policies for common occurrences.  We carry them for catastrophic events and since crystal balls are notoriously Cat 3 Hangar Queens, we just don't know when we'll be at fault for a serious debacle.  In addition to providing additional funds to pay claims, most umbrella policies will separately cover the cost of your defense.  It turns out that insurance companies don't like hemorrhaging cash, so an umbrella policy has the side effect of incentivizing your insurance company to vigorously defend you (and their coffers).
What else do I need to know about Umbrella Insurance?
Umbrella policies are generally inexpensive.  Either your home or auto insurance company will probably be the best bet to provide coverage, but they will want you to increase your home or auto liability coverage before instituting an umbrella policy.  Most companies won't write an umbrella policy on you unless they also cover either your home or cars.  As with all insurance, you need to shop around.  It's common to find that one company's auto and umbrella combination is significantly better than another's.  Insurance companies don't generally decrease your rates based on customer loyalty—they want safe drivers and people with boring houses that don't have pools or rock-climbing walls in the back.  Thus, it's best to be loyal to your wallet, not the insurance company you've had since you bought a lieutenant-mobile.  Umbrella insurance will have exclusions too—things like flying an airplane or intentional acts like playing punchy-face after a few too many are right out.  If you have sporty cars in your stable or the (mis?) fortune to have teenage drivers in your house, expect to pay more.
As military members roving from state to state, umbrella insurance can be even more critical.  Not all states offer the same protection of assets from creditors.  While federal law protects assets in some retirement accounts from creditors (i.e., plaintiffs in that Ferrari you mauled), that's not always the case.  State laws also bear on what protections your assets receive and state laws vary and change too.  Rather than stay up late studying just how exposed you might be after your next PCS, it may be easier to have sufficient umbrella coverage.
A rule of thumb is to consider an amount approximately equal to your net worth.  If you're cresting 7-figures, then it's a good time to consider an initial policy.  Even if you'll receive some creditor protection from state and federal law, you'll probably sleep better knowing that a sufficient umbrella policy will render those issues moot.  As your net worth climbs, it's important to throttle up the coverage to keep pace.  If you accumulate a $3M net worth, the opposing lawyer will find a way to know that and it's likely to inform the damages her client seeks.
When am I gonna make it back to Haiti?
There's a great SNL skit about the bad ideas we can find ourselves wrapped up in.  You may not think you have much risk, but as food for thought, what if…
That sweet COVID rescue dog you got last spring runs out the door and mistakes a toddler's hand for a chew toy. You get sued for medical bills, pain and suffering, and punitive damages too.
Your teenage son loses his temper and throws a haymaker. One broken nose and a lawsuit later, your house is up for an untimely sale.
The roads are icy and you glance at your phone, just this one time, just for a second… and cause a multi-car pile-up. Chances are 100/300/100 isn't going to cover it.
Those angelic teenagers of yours throw a rager while you're out of town. A party-goer gets a DUI after causing an accident on the way home.  The lawyers find that you're the DFP…
Umbrella coverage won't protect you from every liability situation and clearly, if you need it, you need to make sure you have enough to protect that with which you don't want to part ways (investments, home, etc.).  When you're just starting out financially, it probably isn't necessary since a judgement against you can't generally produce what you don't have after bankruptcy.   But as you get on glide path with your financial plan and start stacking up Benjamin's to live off of in your golden years, umbrella insurance makes a lot of sense to protect what you've built.  Fight's on!
Winged Wealth Management and Financial Planning LLC (WWMFP) is a registered investment advisor offering advisory services in the State of Florida and in other jurisdictions where exempted. Registration does not imply a certain level of skill or training.
This communication is for informational purposes only and is not intended as tax, accounting or legal advice, as an offer or solicitation of an offer to buy or sell, or as an endorsement of any company, security, fund, or other securities or non-securities offering. This communication should not be relied upon as the sole factor in an investment making decision.
Past performance is no indication of future results. Investment in securities involves significant risk and has the potential for partial or complete loss of funds invested. It should not be assumed that any recommendations made will be profitable or equal the performance noted in this publication.
The information herein is provided "AS IS" and without warranties of any kind either express or implied. To the fullest extent permissible pursuant to applicable laws, Winged Wealth Management and Financial Planning (referred to as "WWMFP") disclaims all warranties, express or implied, including, but not limited to, implied warranties of merchantability, non-infringement, and suitability for a particular purpose.
All opinions and estimates constitute WWMFP's judgement as of the date of this communication and are subject to change without notice. WWMFP does not warrant that the information will be free from error. The information should not be relied upon for purposes of transacting securities or other investments. Your use of the information is at your sole risk. Under no circumstances shall WWMFP be liable for any direct, indirect, special or consequential damages that result from the use of, or the inability to use, the information provided herein, even if WWMFP or a WWMFP authorized representative has been advised of the possibility of such damages. Information contained herein should not be considered a solicitation to buy, an offer to sell, or a recommendation of any security in any jurisdiction where such offer, solicitation, or recommendation would be unlawful or unauthorized.